Fire, smoke damage, and rugs (San Diego update)
Fire seasons in the southwest seem to be getting longer, especially in our area of the country in San Diego.
We have had several major wildfires in San Diego over the past two decades, with clients and friends who lost everything they own to the fires.
For those who did not lose their homes, there is a large project of having to clean up. Many experience heavy smoke and ash, and an acrid odor that gets into every nook and cranny. The fine fire particulate gets into HVAC systems and comes through our windows/doors and contributes to odor issues until the particulates are physically cleaned away.
It is not just the irritation of the smoke odor. These airborne fire particulates can contribute to sore throats and coughing, irritated eyes, nose bleeds, and other sinus issues. People with asthma need to be especially careful outside in this type of pollution. Those in the heaviest hit areas likely have to leave their neighborhoods to try to breath fresh air again.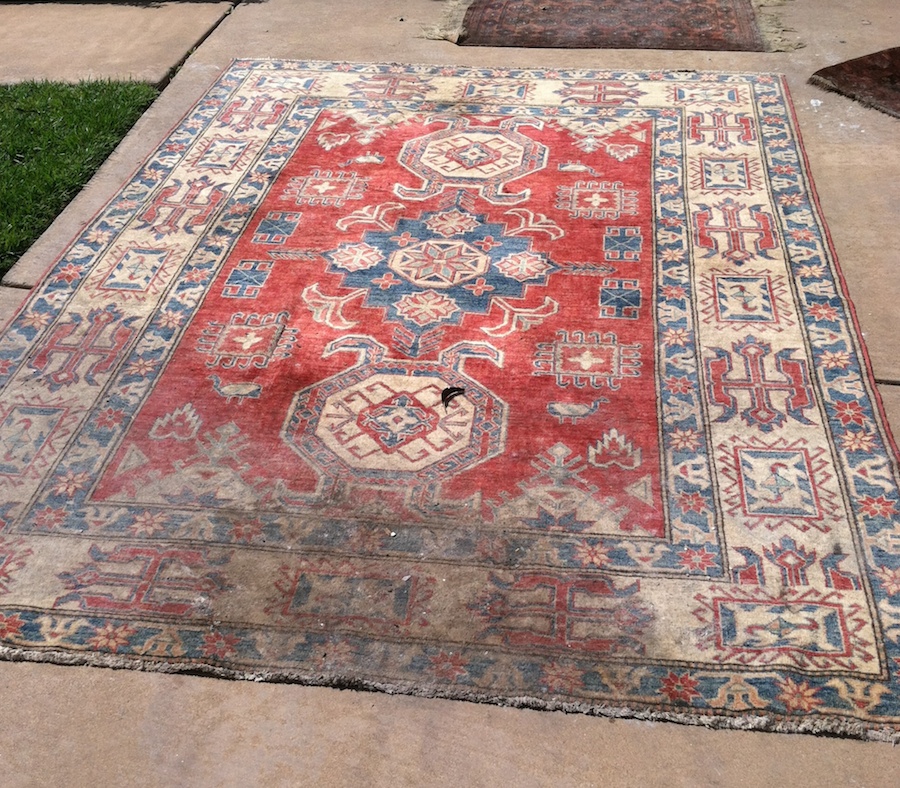 Soot and smoke damage on a Pakistan wool rug.
Some tips from the IICRC (the Institute of Inspection, Cleaning, and Restoration Certification) on Fire Clean Up Tips can be found here.
Here are some additional tips on clean up.
CLEAN UP QUICK CEILING TO FLOOR. (PLAN TO DO IT AGAIN.)
I live in Ramona, and when we had the devastating 2007 fires in our town, with so many homes lost, that odor was truly horrible. Not just ash, but the smell of burnt plastics and metals and every other item you can imagine incinerated.
Those who did not have direct fire structural damage requiring fire restoration/rebuilding contractors sought out professional cleaning companies to handle it all: air duct cleaning, ceiling and wall cleaning, carpet cleaning, hard floor cleaning, air scrubbers to get the air cleaned, and of course rug cleaning. Most insurance companies covered this type of clean up for owners and renters of homes/businesses.
The problem we experienced at that time was after a rush of getting indoor environments livable again, we had another strong Santa Ana wind come in weeks later that picked up soot and ash and blew it all through our living spaces again. So we cleaned again.
My advice to clients has been to get everything cleaned quickly because the acidity of soot/ash harms most surfaces and fibers, but be prepared to do it again in the next month or two unless we get some rains to help prevent all of this soot and ash from getting airborne again.
With rugs, soot and smoke needs to be washed out of the fibers.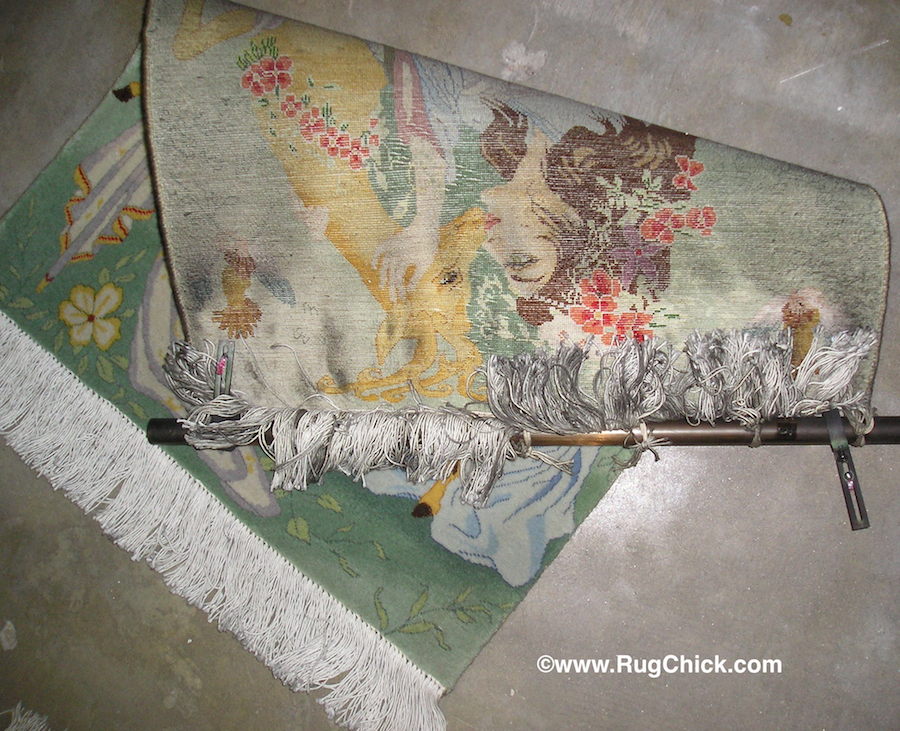 Tabriz wall hanging. Soot/smoke must be washed away from this rug to prevent fiber and dye damage.
In situations where rugs have light to moderate smoke odor, a standard wash will take care of the problem by washing away the fine particulates that have grabbed onto the fibers and are carrying the odor with them. Afterwards regular vacuuming can keep your rugs in their best condition.
(For step-by-step how to properly, and safely, vacuum your rugs read my post on vacuuming rugs. That is the most common question I get, so I answered it in depth.)
Heavier fire damage requires some additional care.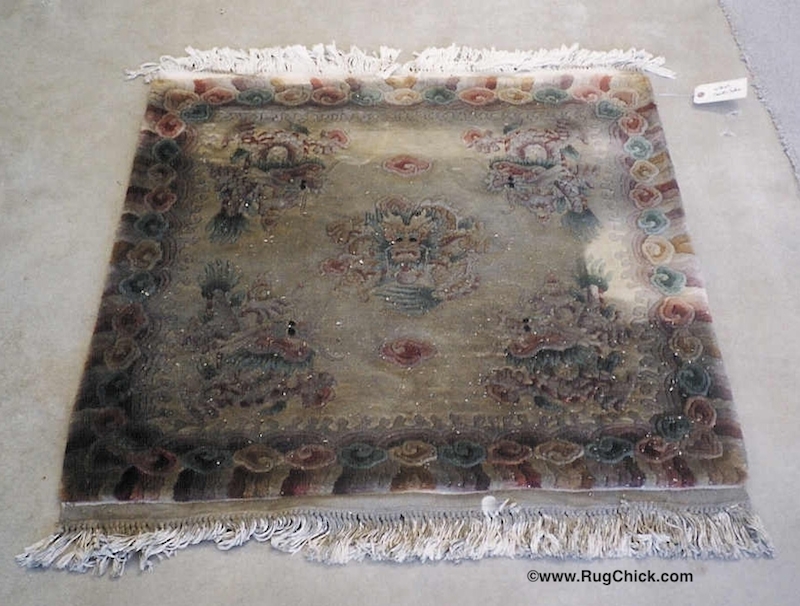 Heavier smoke/soot damage to a Chinese wool rug. This must be deodorized.
In these situations, the rug requires washing, but also deodorizing with solutions formulated to help remove the odor source from natural fibers (wool, silk, or cotton).
Sometimes the damage is too extensive to save the rug, such as with this rug: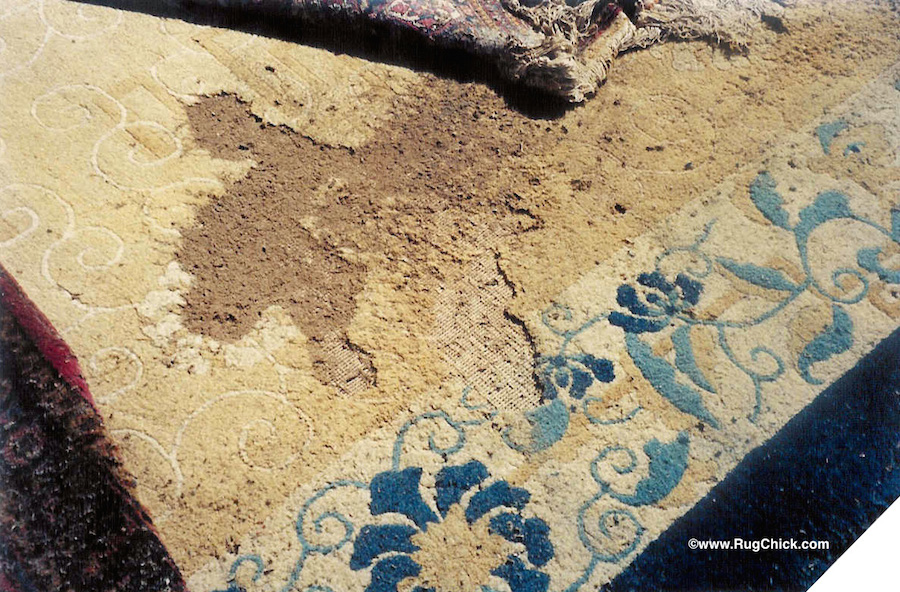 Burning embers damage the face of this wool tufted rug. Thankfully wool self-extinguishes, but the damage in this piece was too much to reweave.
One of the nice qualities about wool is that is has a high moisture content that results in it self-extinguishing flames in most cases. This is why you see wool carpet and fabric used in airplanes and also in many hotels.
Small fire damage burns in rugs can often be reknotted, so it is always worth determining whether a rug can be saved when it is part of a fire.
Most heavy soot and ash can be removed if a professional rug washer can get to the damaged rug sooner rather than later. The longer that acidic ash and residue stays on the fibers, the more damage that is caused to the rug fibers and dyes.
One rug owner did not think this rug would be salvageable.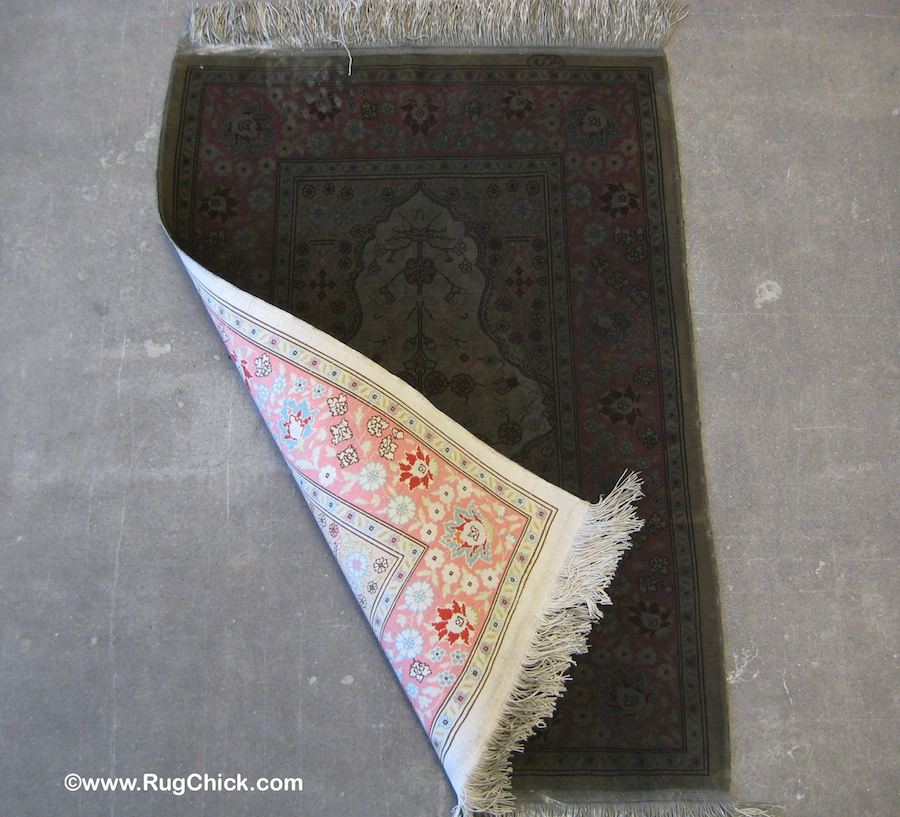 This Turkish Hereke silk rug was on a table in a home that burned down. Comparing the back to the front.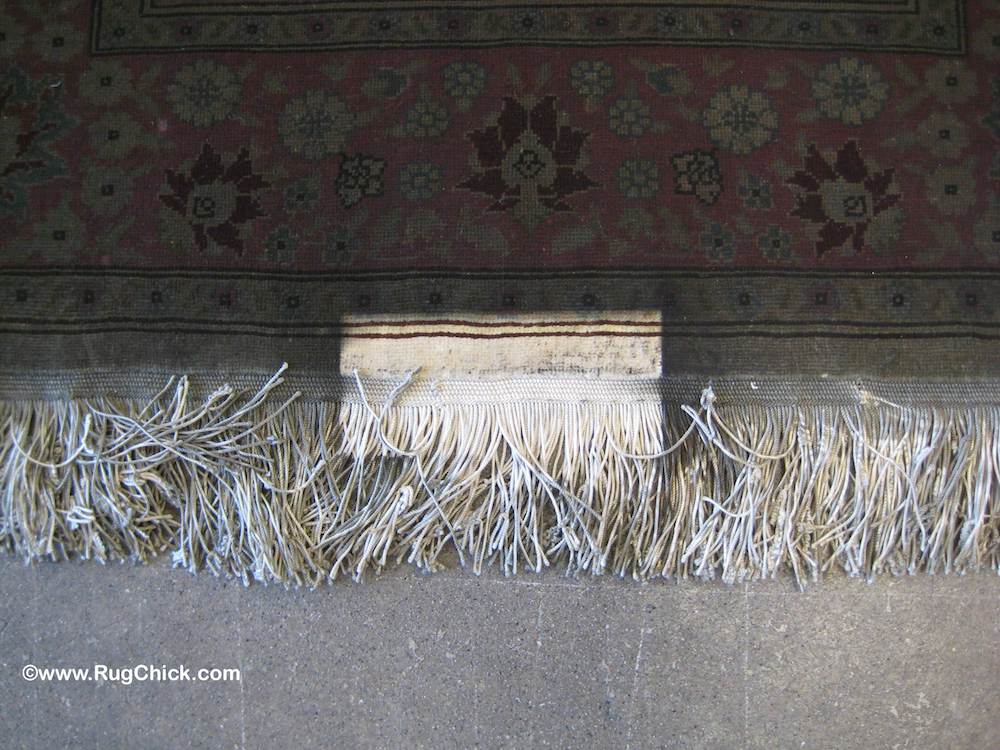 A heavy lamp on the edge of the rug created one small unaffected area. The odor was very strong.
This rug was one of the few items to survive this home fire
This rug was one of the few items to survive this home fire, and because the work was performed very soon after the loss, the rug – and the memories from that trip to Turkey – were saved.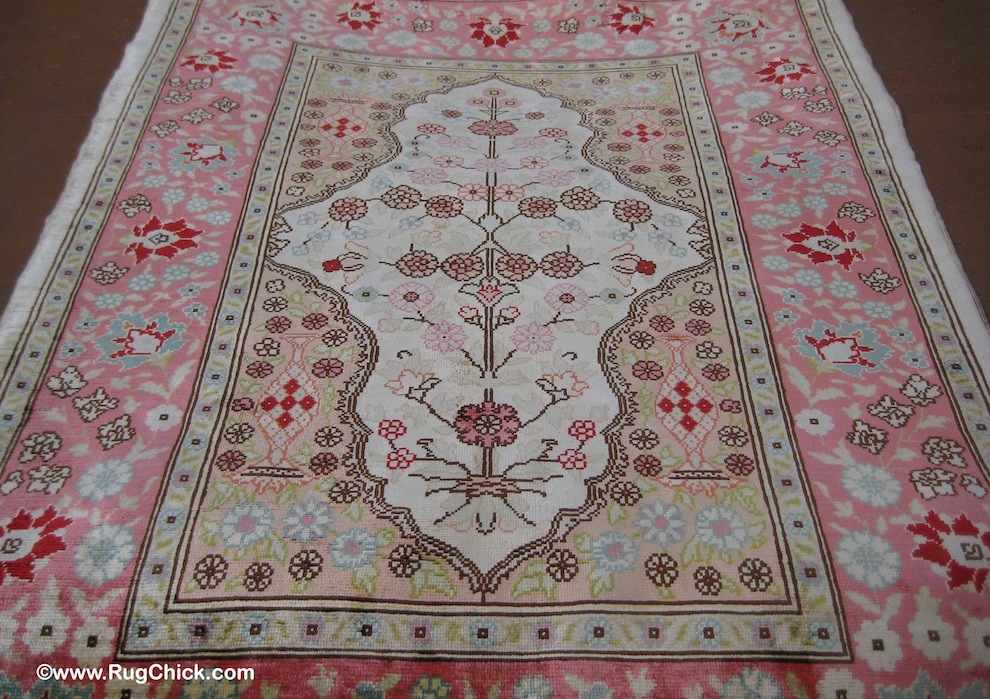 Turkish Hereke silk after the wash services to save it.
Often when a home is lost to fire, one of the few items that can be saved are the wool and silk rugs. It is not much… but it is something when everything you own may have been taken away in something devastating like this. Every rug usually has a "story" to it, so it is nice to help save a happy memory in the midst of an unhappy experience.
Our thanks go out to the fire crews who helps to protect our city last week, and my prayers and hugs go out to those who lost their homes in this disaster.
SINCERELY,
LISA
RugChick is ad-free and affiliate-link free. If the information has helped you, and you want to support the site, please buy Lisa a cup of coffee. Thank you!