House plant damage to rugs. Your options.
Watering a potted plant near a rug can lead to a big ugly dry rot hole in a rug if it's left undisturbed for too long.
If you want to know why this happens, please read this => Don't Water The Rugs!
That's what happened to this runner. The moisture from a potted plant was absorbed by the cotton foundation of this rug, all underneath the pot, and it began to mildew and then rotted from the inside out until it crumbled into a big hole: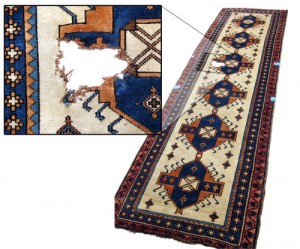 Hole created from a house plant.
This damage is not reversible, or correctible. If you've ever seen drapes that have been so exposed to sun for so many years that they just begin to fray in your hands like paper, then you can recognize how deterioration like that is not correctible.
If the rug is an investment textile, you might consider paying thousands to send the rug to a company – perhaps in the country of origin – to reweave the area… but it will never be the same. You cannot truly "restore" a rug back to its original condition when it's had this type of structural damage.
What you may consider doing is to have the damaged area patched. This would entail removing all of the damaged and mildew affected areas completely, and securing a patch into the hole to allow the rug to be strong and useable again. This is typically the repair choice for rug owners who uncover significant dry rot in their rug.
Another option is to do what was done to the runner shown above with the big hole, which was to shorten it in a way that made it look as if it were meant to be the size it ended up being.
Runner was taken from 6 medallions down to 5 – but it looks like it was meant to be 5 in this photo after the repair.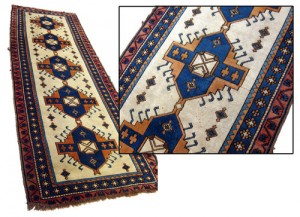 To see the steps taken to shorten this plant-damaged rug, visit this post => Runner Repair Post
If you are a cleaner picking up rugs to take to your facility, pay special attention to the rugs near plants. You want to look for signs of dye bleed, the sign or odor of mildew, or any stiffness to the area that you feel. These are all warning signs of water damage.
If you are an owner of rugs, you want to take care to keep the plants OFF your rugs, or at the very least elevated, and that the rugs are folded away from the plants during watering time.
As you are inspecting the rugs for any planter water damage, take a look also for any bug activity, especially with rugs that have been undisturbed for months. For tips on how to spot bug activity, and how to keep the moths and carpet beetles away, read this post => Moths Bugs and Rugs, What You Need To Know.
The damage – whether it's from plants or bugs – only gets severe when it's left unattended for months. If you make it a habit to check your rugs regularly, you can catch it before it becomes too expensive to repair.
– Lisa
P.S. If you are a professional rug cleaner looking for second-hand large rug cleaning equipment, I've been asked to locate interested cleaners for a 16-ft roller wringer ($13,500 – or best offer) and a 24-pole electric wrench dry pole system ($11,500 – or best offer). These machines are located in southern California. Wringers are hard to find second-hand these days, and to get a new centrifugal spinning wringers instead, only up to 14 ft. long, will run you around $50,000 from U.S. suppliers. A bit less from the European suppliers. The dry racks are selling for around $10,000 new for only a dozen poles. If you are seriously interested (i.e. you have the funds to purchase and ship to your location), then send me an email at rugchick@gmail.com. These will go fast, so if it's sold by the time you write me, I apologize in advance.