Rug Dyes. What makes them bleed
The biggest fear most rug cleaners have regarding rugs is that the rug might bleed while in their care.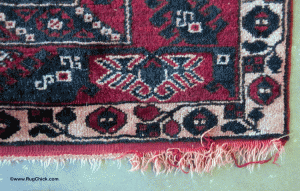 The fact is, with proper training and the right tools and solutions, even the most fugitive dyes in a rug can be successfully cleaned…
…you just need to know what you are doing.
And interestingly enough, the biggest bled rug disasters I've seen in my career have been when cleaners have brought me rugs that they should have not cleaned in the first place, and they could have avoided their disaster through the simple step of doing a proper dye test.
If you do not know know how to do a proper dye test, here is how I do one.
I use hot water for my test, but you can also use a high pH spotter. And if the dye bleeds when you test with either of those items, you need to test with your DYE STABILIZER solution to make sure you can safely clean the rug. If it bleeds with your stabilizer, you are in trouble.
Hopefully this helps explain any past dye migration challenges you have had, and gives you some insight to avoid disasters in your rug cleaning business.
Happy Rug Cleaning!
– Lisa
P.S. Looking for more rug care training? Jim Pemberton and I have the most comprehensive real-world textile program in the industry for oriental rug and fine fabric care. If you want to be a Textile Pro, take a look at the details on our Textile Pro page.