I am not the biggest fan of TUFTED rugs. Simply because I appreciate the art of a woven rug crafted by hand,versus the mass-market production of tufts of wool held together by latex and covered up on the back with material.
It's cheaper to buy a tufted rug than woven, because of course the labor is a fraction of the time, but you also get what you pay for – a rug that lasts several years versus decades (or centuries) … a rug that is many times "disposable" because they simply do not last long.
And definitely not a rug to hand down to your children. But maybe you don't mind that. You might be looking for something that looks nice, and maybe you have pets so you don't want an investment piece of art on your floor, so it may be that a tufted area rug is exactly perfect for your needs and budget. I can understand that.
But what happens when the new tufted rug you bought stinks? I mean, literally STINKS? Like this one: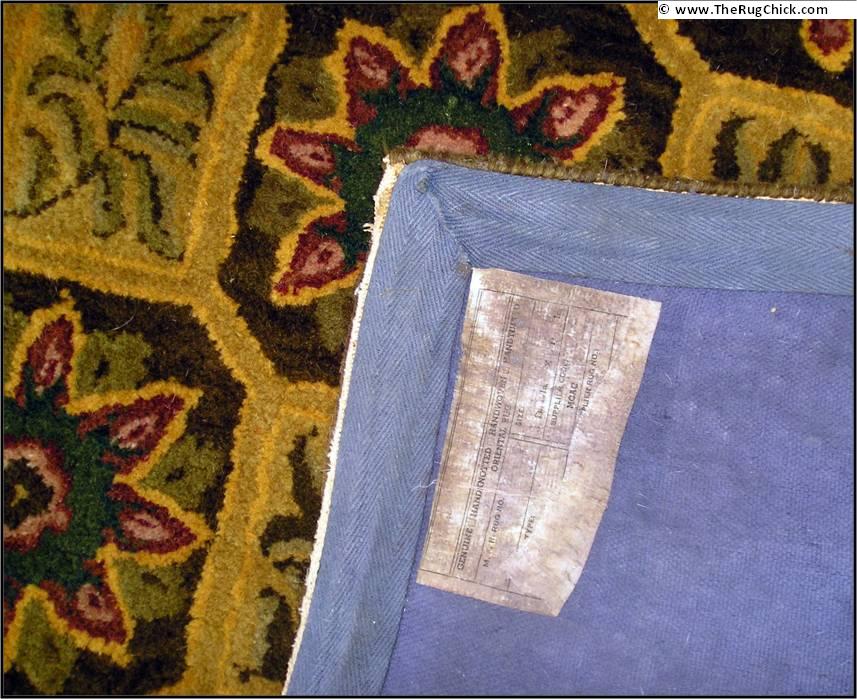 Some tufted rugs from India smell like dirty old socks and rubber.
Tufted rugs from India are getting a reputation for smelling bad. There appears to be a flaw in the curing process of the latex holding the rug together that off-gases an awful smell.
The purchaser may get a great deal on the rug and think that this can be washed to smell better – but they would be wrong, because the odor actually WORSENS with moisture. As of this date, none in my network has come up with a solution to this problem except to turn the rug away as uncleanable.
Some of these problem rugs have white material backing, and many I have seen have the blue backing shown in the photograph above. In my experience all have been from India, but not all India tufted rugs have this problem. And it may be that China or other countries produce tufted rugs with this particular problem, I just have not experienced it in anything other than tufted product from India.
What do you do?
When you go to buy a tufted rug, you grin open the fibers in the store and you SMELL the rug. If you notice a strong blend of dirty old socks with old tire rubber, then you have a problem. Do not buy the rug.
If you have recently bought a tufted rug, have closed up your house for a trip, and return to the strong pungent smell that makes your eyes water, then return the rug to the store. This is a manufacturing flaw, and the rug should be replaced. Then the retailer can ship it back to the factory and insist that they improve their manufacturing process.
And if you don't want to deal with any potential odor problems like this, then buy a rug that is woven and does not use latex or glue to hold it together because it has been crafted beautifully by hand and does not require any adhesive to keep it together.
– Lisa
RugChick is ad-free and affiliate-link free. If the information has helped you, and you want to support the site, please buy Lisa a cup of coffee. Thank you!