Why do some wool rugs fade?
Certain rugs are given a strong chemical washing by their weavers called a "luster wash."
This is a bleaching of the wool fibers using various chemicals (chlorine bleach, sodium hydrosulfide, and other strong solutions) meant to "soften" the look of a wool rug. This is similar to highlighting hair in the this solution is dissolving the outer cuticle layers of the wool to give is a smoother shape, which makes the wool MUCH more reflective.
This lightens the tips of the fibers and creates more sheen and shine – which is why it is called a "luster" wash. This is why these rugs, many coming out of China, Pakistan, Iran, and India post-World War II, have wool rugs that sometimes shine like silk.
The problem with this type of highlighting process is that it is the cuticle layers of the wool where the strength is. So the outer protective layer of the wool which would normally repel spills, is gone. This makes these luster washed rugs much more prone to permanent staining from spills (especially acidic spills), to loss of color during spot cleaning, and also fading and total loss of color if placed in an improper setting (direct sunlight) or improperly cleaned (being cleaned in the home).
Here is a Chinese rug that was cleaned improperly with aggressive cleaning agents and dried in direct sunlight (a horrible double whammy):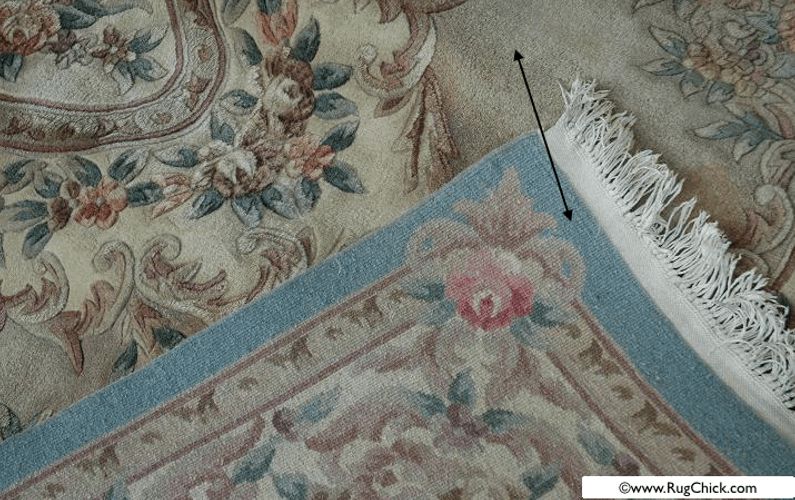 This rug was improperly dried in direct sunlight. The original blue color has faded to a beige on the front, it lost all of its blue original color.
This blue rug has faded to beige from improper cleaning.
Many rugs, when you grin open the fibers, if they are susceptible to fading you will see a distinct difference in the base of the fibers to the tips. The base will be DARK, and the tips will be LIGHTER. Almost frosted.
What you need to know about these rugs are that they are more susceptible to permanent staining because the fibers are already weakened by this chemical processing. This does not mean that the rug will not last you a hundred years (wool is by far the BEST fiber to use for a rug) – it simply means you cannot grab an over-the-counter spot remover to use on these rugs, they will cause a loss of color that will be MUCH worse than the original spill was.
While we are talking about over-the-counter products, you want to make sure you NEVER use these on any wool oriental rugs, or other natural fiber rugs (silk or cotton). These chemicals are formulated for synthetic wall-to-wall carpeting and are much too aggressive for natural fiber rugs. Folex, Resolve, Oxyclean.
Even Woolite, when applied directly to certain wool rugs, will bleach out colors or cause discoloration that is not correctable due to some optical brighteners that are used in their formulation. I find customers tend to not dilute it when they use it, and it almost always creates dye damage as a result of a panicked over-use.
Gentle, proper washing of wool rugs does not fade a rug.
What can fade a wool rug is direct sunlight in a room, or direct sunlight drying of a rug being cleaned.
What can fade a wool rug is improper choice of cleaning solutions – using the same chemicals from your wall-to-wall synthetic cleaning on wool rugs, and using really high heat to clean that wool.
What can fade wool rugs is cleaning them in the home and as a result leaving cleaning chemical residue in those fibers afterwards because you are not washing the rug and rinsing those fibers clean.
Those are situations that contribute to further and faster fading of a rug.
One way to slow down that fading is to look for a fiber protector that has UV protection capabilities.
– Lisa