Why rugs are not cleaned in the home
The recommended cleaning method for wool oriental and specialty rugs, is washing them.
For as long as rugs have been woven, they have also been washed. Though in the past with a bit more "low tech" methods than are available today.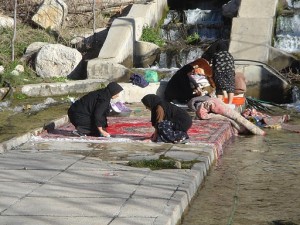 Rugs being washed near a river.
But before the washing even begins – the beating does!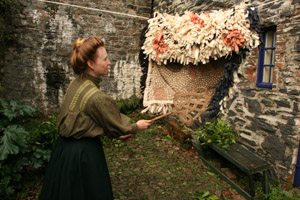 Rugs – ESPECIALLY wool rugs – have a capacity to hold a large amount of soil in them. This is because wool under the microscope looks kind of like fish scales, so lots of layers, with MANY places to hide dirt and grit. See, take a look: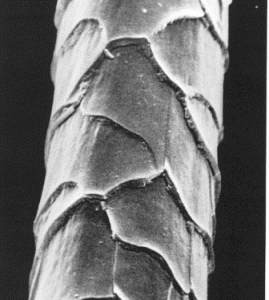 Wool strand under a microscope.
It's these many "little pockets" that hold soil, and why a wool rug can have POUNDS of soil in it and still not look especially dirty. The dirt is hiding. And not just dirt and soil, but a whole host of other contaminants. Look at what came out of this rug by vacuuming the back side of the rug with an upright beater bar vacuum: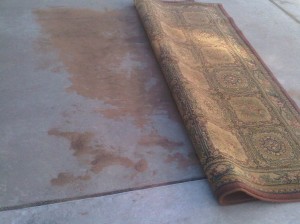 Pounds of soil out after dusting the rug on the back side.
This rug below also, shows the soil from using a heavier dusting machine (a Rug Badger):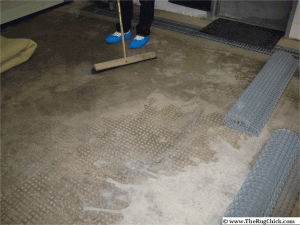 Pounds of soil "beaten" out of a rug before washing.
There are several reasons why cleaning rugs requires them to be removed from the home. The big one is of course the removal of this soil before cleaning, and then the actual washing of the rug itself, which simply cannot be done with standard carpet cleaning machines (a portable or truckmount). Those are considered surface cleaning and not washing.
In fact, here is the latest cover story of Cleanfax Magazine, where the specific reasons why choosing to clean a rug in the home can cause more harm than good. This is information every professional cleaner should know, and certainly what their clients need to know regarding any rugs they value:
CLICK HERE The Dirty Truth About Rugs
I am not saying that rugs can just be tossed in water with no worries. You do need to understand what you are doing. We get calls regularly from homeowners who thought they could hose down their rug, and then discover that this can lead to dye bleeding, buckling or shrinking, and incredibly long drying times.
That because those "tiny pockets" that hold soil, also can hold a lot of water molecules too. Wool rugs get HEAVY when wet, and the inside fibers are absorbent cotton warps and wefts that swell with water, so you need to have the equipment capable of removing that level of moisture so that the rug can be properly and thoroughly dried quickly.
Some rug cleaning operations are more "workshop" operations instead of high-volume rug cleaning facilities. I guess you would call them "boutique" rug operations. They wash the rugs one at a time, and have some equipment to help them be more thorough in the dusting, washing, rinsing, and drying processes.
They may use a large wash floor to wash the rugs, like this: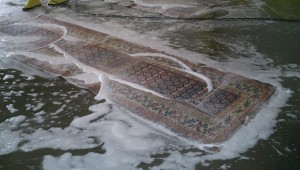 Persian runner being washed thoroughly.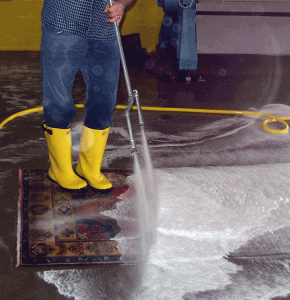 Rug being rinsed thoroughly. Can't do this "in" the home.
Some rug cleaners have not poured a wash floor yet, or don't have the space to, and so they use wash "pits" to give rugs a bath in.
I have one skilled rug cleaner friend who owns a "pit" for a handful of his clients who will now allow their highly valued rugs to leave the premises, so he sets up a cleaning system on their property and washes them on premises in their back patios.
This still takes him several days of follow-up visits for dusting, washing, drying, and finishing time, and requires additional equipment brought in for extracting the water and airmovers to dry.
(FYI – the Rover is excellent for removing water from a washed rug without any marks and the Studebaker Airpaths are fantastic to help speed up drying times).
These particular clients he charges multiple times his in-plant washing price versus if they allowed him to clean them properly (and more conveniently) in his rug plant… but sometimes you have to build the "wash system" to make sure investment rugs are properly cleaned. What he does not comprise on is "surface cleaning" when he knows they need to be cleaned right. So a wash pit in the backyard!
In the mobile auto wash industry, they sell inflatable wash containment "pits" that can be easily used for this type of on-location more thorough washing or in your facility if you do not have an inclined wash floor for cleaning.
Here's one I found on Amazon for less than $600 => Inflatable Car Wash Containment
Ideally though you have a proper wash floor, and bring in larger equipment to help boost your performance and production as you grow. Some of this equipment is a sizable investment, so do the best with what you have and grow when you are truly ready to, and can afford to. I've had several friends sink several hundred thousand dollars into opening large rug cleaning facilities, and then go under before they had time to enjoy their new business.
But before you run out and buy any cool new tools for yourself, invest first in the proper rug education and training, because as I've highlighted in several recent blogs I receive rug cleaning disasters weekly from both cleaners and homeowners on rug cleaning that has gone bad. The wrong methods, cleaning solutions, temperature, drying conditions, as well as poor rug construction, can lead to rug disasters.
In an upcoming post I'll share some of the options for different tools and equipment you can use, based on different budgets, to get your rug shop set-up properly. There are LOTS of options for you.
I'll also be giving you some direction on getting more experience and education in this craft.
My goal is to make sure professional cleaners (and rug owners!) know how to best care for woven rugs, and give them the best information and resources to make that happen.
All my best,
Lisa
RugChick is ad-free and affiliate-link free. If the information has helped you, and you want to support the site, please buy Lisa a cup of coffee. Thank you!