Buying rugs. (Tips for the nervous rug shopper.)
Rug dealers as a "group" get a bad rap.
Everyone has heard a story, or seen an exposé, on someone being ripped off on a rug purchase. They were sold an "antique"…when it wasn't. Or they were sold a silk rug…when it was actually viscose or mercerized cotton.
It's an industry that is similar to the "carpet cleaning" industry in that it's a small percentage of unethical bad apples that ruins the reputation of the group at large. And just as not every cleaner is a bait-and-switch operation, neither is every rug dealer a bait-and-switch retailer. There are great retailers selling great textiles out there.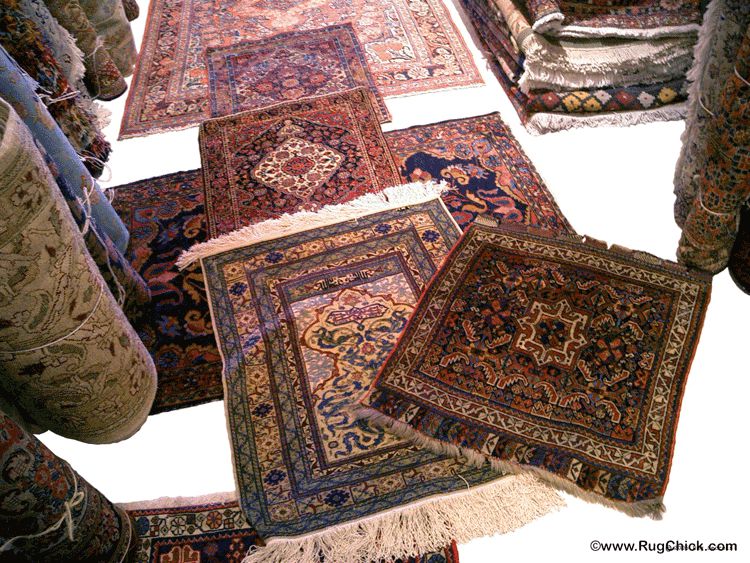 Beautiful Persian rugs for sale.
When I hear a "horror" story on a rug it usually comes down to this one factor – that the buyer did not get any education on what they were buying beforehand. So they were at the mercy of the rug villain.
Whose fault is that exactly? Yes the scheming dealer saw the person as a mark…
…but the buyer should not have been a "mark" in the first place.
So this is a post to help educate rug buyers out there in some of the basics of a "good" rug. This is based on my experience of growing up with parents in the rug business (selling antique rugs) and with my mother and brothers and team running a rug washing and repairing facility today in San Diego.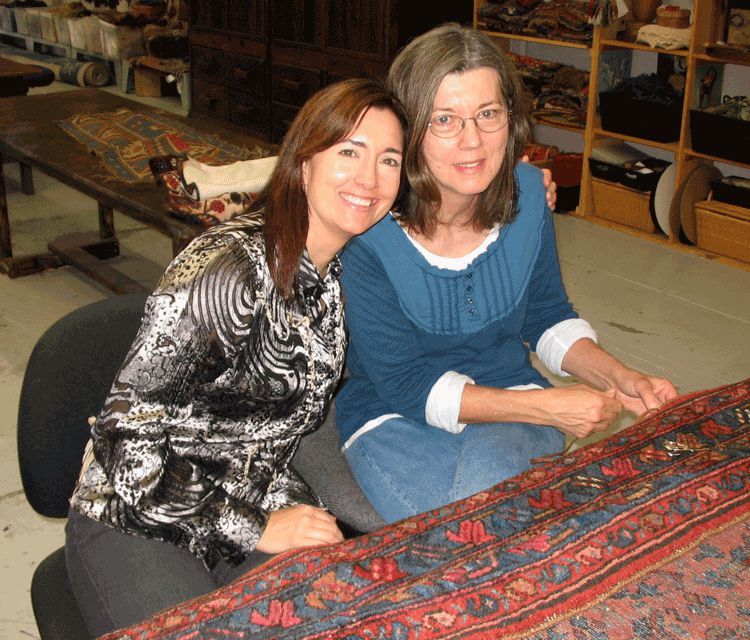 This gives me the retailer perspective (and it is hard work to run a retail shop today…especially in California) and also gives me the perspective of the caretaker of these textiles, so I know the bad fibers and dyes and manufacturers to avoid.
So if you are looking to buy a rug, and truly are starting from ground zero and are nervous about it, here are some guidelines that I hope will help you feel like a more confident consumer.
RUG BUYING TIPS FOR
NERVOUS

RUG SHOPPERS:

1) Find the right COMPANY.

Just over a decade ago you found woven rugs only in galleries. Today you find them all over the place, and all different qualities. Especially now that synthetic rugs and inferior goods have moved into our market, and they are getting good at making a lot of low quality area rugs, it's getting tough to know what's worth paying for and what is a complete waste of money.

A mass market budget store is not going to be selling high quality merchandise in rugs. If you are looking to buy a quality rug for your home, and you are looking in Home Depot or Lowes or Costco, you are not going to find them there.

But you knew that already. =)

They may have some good commodity rugs to use in places you need a rug to get beat up in. I have a couple wool tufted rugs that I use as entry mats because wool is great at grabbing and hiding soil, and lasts longer than synthetic fibers. I like my woven wool rugs too much to make them my entry rugs. They are my rug friends, much older than I am, and I just respect and enjoy them too much for putting them at the front door.

So, if you are looking for rugs of quality, with great colors and character, you are going to find these in several places:

=> Rug Galleries: Yes there are still galleries that sell only hand woven oriental rugs around. New and antique textiles. The stores who are perpetually running "going out of business sales" need to be avoided. This is where flawed merchandise is trucked in for a "tent sale" to move items that were not good enough to sell to begin with. This is absolutely an area to ask around for who others refer to you as a good company.

A good place to ask who to buy from is your local rug cleaners. We cleaners see new and old rugs, hundreds and hundreds a week, and we absolutely know what the good rugs are and what the garbage is. So ask your trusted cleaner who they think is good to buy from.

If you are in the San Diego area (my town!), a great gallery to visit is Prospect Rug Gallery in La Jolla for "real" investment grade oriental rugs. And if you ever find yourself in Jacksonville, Florida, the most amazing gallery of rugs and art I've ever been to is Mussallem Galleries. You must add it to your trip, it's worth the visit, trust me.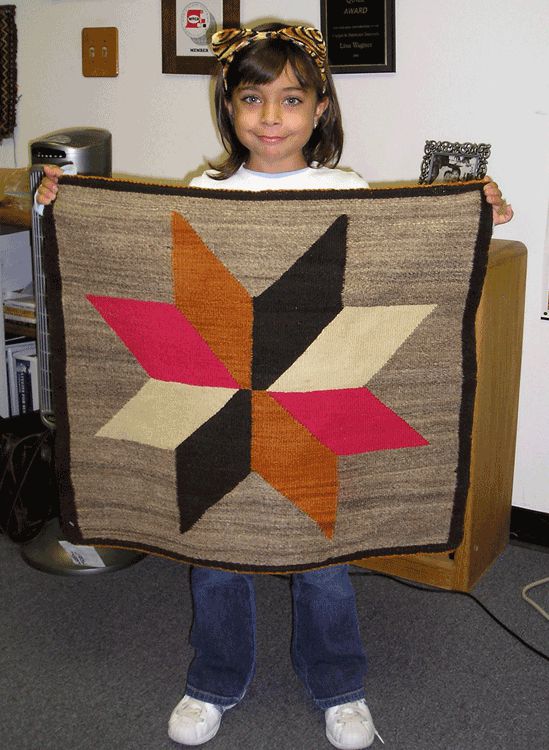 My niece Katie (when she was little) with a little Navajo weaving.
=> Furniture & Flooring Stores: Rugs "finish" or can "make" a room, so you will see with stores that specialize in furnishings, or specialty hard floors, that they also carry rugs. These stores do not have the staff research that 100% rug stores have, so they may have rugs that look good but are not high quality. With tips later in this post on determining quality you will be able to make a good choice, but you can often find good rugs in some of these better quality furniture and flooring stores. You just need to know what you are looking at.
=> Antique Stores & Consignment Stores: You will often come across some real treasures in some of the hole-in-the-wall antique shops and consignment stores in your town. Often the owners are not knowledgable on rug quality, or pricing, and you can sometimes get great rugs here at good prices as well. But I personally just love to find new places to go "discover" hidden rugs that are beat up, dirty, and that I know I can bring back to life back at our shop.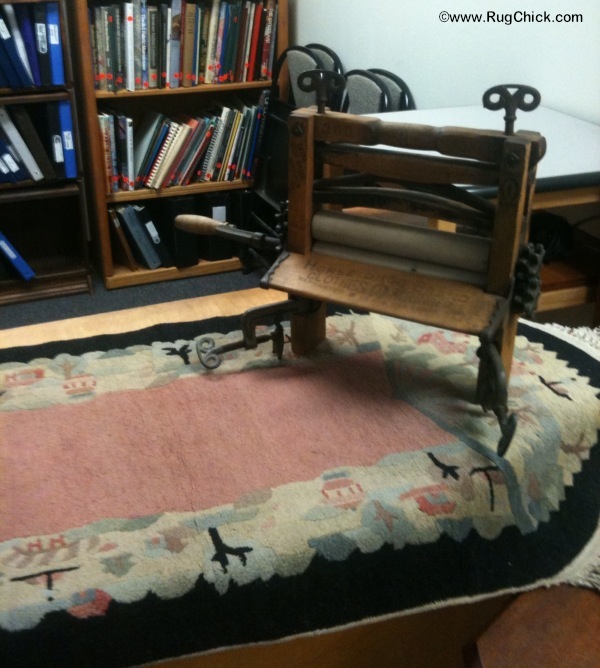 1930's Fette Chinese rug and hand crank antique washtub wringer I found at a local antique shop.
2) Find the right RUG.
A rug is only as good as the ingredients and skill that went into making it, so if you are looking for a quality rug you want to see good fibers, good dyes, and good construction.
FIBERS: The good, the bad, and the ugly.
The best fiber for rugs is by far wool. It is the strongest, most vibrant, and most resilient fiber to be walking on. A low quality wool rug will outlast the best synthetic fiber (nylon, acrylic, polyester, olefin) all day long. Plus wool is fantastic at hiding dust and soil, so it also looks cleaners and better longer than other fibers.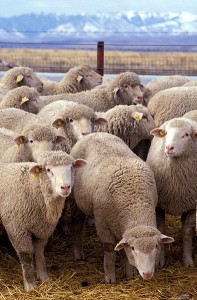 Wool is the best fiber for rugs.
Wool is also the only true "green" choice if you are trying to save the world =), because it is a truly sustainable resource (sheep replenish the supply annually!). All of the synthetic options are made from petroleum by-products (i.e. they are plastic).
That said, there are some inferior qualities of wool. The lesser quality wool feels more brittle, and it breaks and sheds. Rub your thumb over the wool and see if it has a smooth but firm feel, or if instead it feels more like "straw." Brittle wool can be due to inferior breeding in the sheep, or wool that was sheared from ill or dead sheep. It can also be due to heavy chemical processing that has made it "lifeless." But on the whole, there is a lot of really good quality wool rugs out there.
Silk is also an excellent – but pricy – fiber for weaving some amazing rugs. This is an area where I will see the most "rip-off's" of people trying to pass off inferior "wild" silk blended with rayon/viscose as the real deal.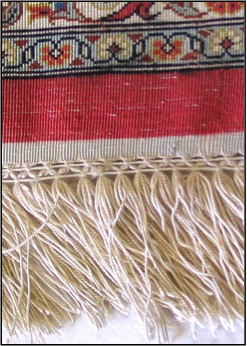 Quality silk rugs have a high knot count, vibrant colors, and a thin pile.
Silk fibers are strong (not as strong as wool fibers are in terms of being walked on), but I have always had a problem with silk rugs being used on the floor. With silk textiles sometimes having as many as 1500 knots per square inch, truly incredible detail, I like to see them mounted on the walls as tapestries rather than having feet, shoes, and paws all over them. But that's me. =) Since many silk rugs will bleed when spilled on, we take the risk?
Reference past posts on real silk rugs and also fake silk rugs, for more tips on identifying the quality silk merchandise and the lemons that are "rugs to run from." Viscose rugs are truly the worst rug choices out there right now, you can read why on my past post: "Viscose rugs are garbage."
There are trade-offs depending on what you are after. If you want cheap rugs to put on the floor, you are going to be buying synthetic fibers. The trade off is they are not as nice looking, and they "ugly" faster because they do not hide soil as well as natural fibers do so you will be cleaning them more often.
Here is an acrylic (synthetic) Tabriz design rug: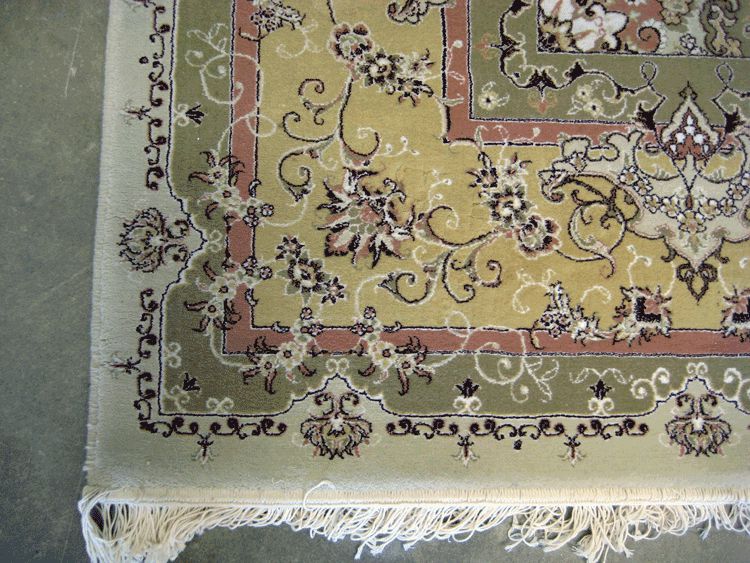 Acrylic machine made Tabriz design rug.
Now… this acrylic rug was made in Iran. Machine made, and synthetic fiber, but given the "Tabriz" design I can guarantee that the person who purchased it was told "this rug was made in Iran, it's a Tabriz" and technically that rug dealer would not be lying. And the owner may have paid believing they purchased a Tabriz (a well known hand weaving city) that would have resale value down the road. But this one is not worth much at all. Synthetic fiber rugs never are.
Here's a "real" Tabriz corner, a wool rug that is hand woven in Iran. (Note the rich colors and sheen, you do NOT get those colors in synthetic plastic fibers.)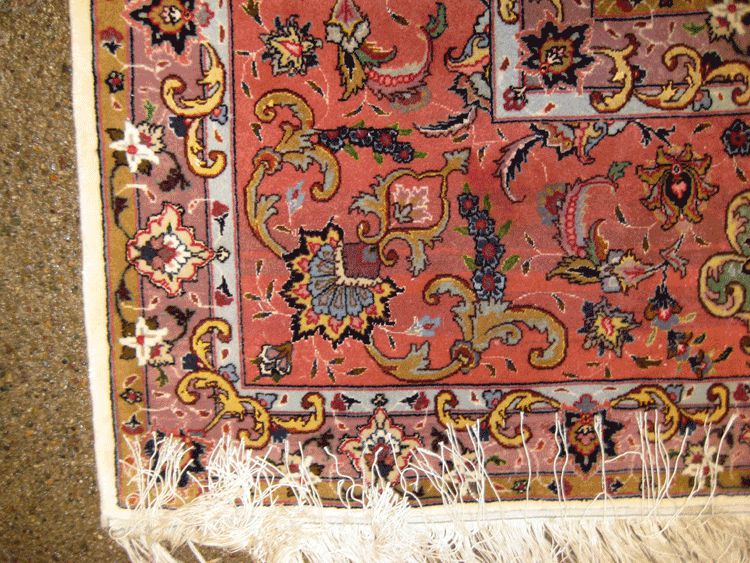 Tabriz hand woven wool rug.
I lump FIBERS into 3 broad categories: the good, the bad, and the ugly.
GOOD = natural fibers (wool, silk, cotton).
These are the strongest, best to dye, and best to walk on fibers. They will also be what is used in hand woven rugs, which will tend to be your more valuable rugs to own. You will also see wool used in the higher quality machine woven rugs like Karastan.
BAD = synthetic fibers (nylon, olefin/polypropylene, acrylic, polyester).
These are the "fake" rugs that are trying to look like wool but are a poor substitute. You should buy these only if you know they are cheap product and you need a rug that you consider "disposable" after a few years.
UGLY = crummy rug fibers (rayon/viscose, sisal, jute).
These are fibers that really are a horrible choice to use as a rug. Rayon and viscose fibers are weak, they yellow, they bleed, and they shed. Sisal and jute you can't have spills on because they release oils and discolor in a way that is truly tough to correct without using some bleaching agents. We often turn away sisal rugs as "un-cleanable" because the rubber they like to glue on the back, and the fabric binding they like to border the rugs with, are all cleaning headaches.
DYES: The good, the bad, and the ugly.
With dyes in terms of what is "good" and what is "bad" besides whether they are visually appealing to you is whether or not they are colorfast.
I lump DYES into 3 categories: the good, the bad, and the ugly.
GOOD = colorfast dyes.
These can be natural or synthetic dyes. It's tough to "test" dye stability in a store. You can take a close look at the back and look for any visible dye migration already there as many rugs have been chemically washed before going to market. You can also take a handkerchief and get it damp to test for any "easy" migration. Ideally, if you can take the rug out on consignment, you can do a proper dye test. If the transfer in the "test" is very slight (just a hue of color), then this is a strong dye, especially if the test was done with hot water as the video shows.
BAD = fugitive dyes.
These are the dyes that are not colorfast. So if you spill on them, they will bleed. It may be that the dyes are not strong quality, or it may be that the fibers have "excess" dye in them due to not being thoroughly rinsed before the weaving process. We see this sometimes in tribal rugs (like American Indian weavings or rugs from war-torn Afghanistan where water resources may be scarce). If the issue is "excess" dyes, then the first thorough washing will help remove this extra dye.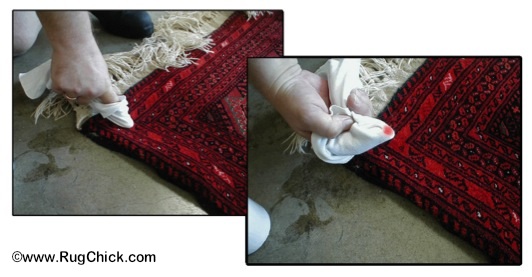 Testing the dye of an Afghan tribal wool rug.
When I say the dyes are "bad" this means either the original dye processing was not exceptional, or there were steps skipped during the production (like the lack of thorough rinsing away of excess dye). It is my experience that rug makers do not cut corners in just one area. Usually poor quality fibers are matched with poor quality dyes and poor quality construction. So a warning sign in this area of dyes is a trigger to look at the rug even closer before you buy it.
UGLY = over-dye treatments.
Some rugs are "colored" after they are woven. One popular treatment is "tea wash" over-dyeing". This is similar to a wash-in dye for your hair. It gives you color that washes out over time. You often see a sign of this treatment on the fringe, that instead of being white it's beige.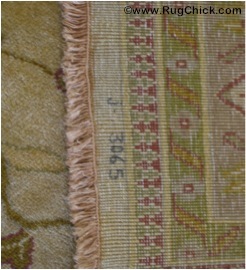 Tea washed rug has beige fringe that is "blotchy."
Some tea wash treatments are better than others, just like some hair dyes are stronger than others. It's important to do a dye test to see what the quality of the rug is you are looking at. If the test shows little or no transfer, then yours will last years and through several washings. But some others are obviously bad jobs: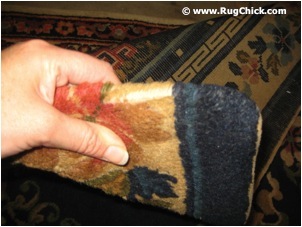 Sometimes tea wash treatments are used to hide past damage or flaws, especially past dye bleeding or stains, so carefully inspect the back of the rug to look for any flaws.
The other UGLY dye is the practice of some unscrupulous rug merchants to sell rugs that have been colored with ink. Some use India Ink to darken areas of wear to disguise them, or to blend away past stain damage (like pet urine stains).
The problem with ink is that it cannot be stabilized when cleaning, and so this will bleed all over the rug when washed. When purchasing an older rug, ask the rug dealer if there are any areas that have been dyed or colored. If he does not point any out to you, then have it written on the invoice as well, just to reinforce his commitment to you on that point. Then if anything ugly happens, you have a course of action to get your money back if you were lied to.
But even skilled rug eyes can sometimes miss the work being done by someone to intentionally hide damaged areas. Being able to take the rug on consignment and do a dye test (or have the rug dealer do a test in front of you at his shop) can show you any areas that may be painted.
One more point on this. This is "ugly" when it is not revealed to you in advance. Then it is meant to hide something that has devalued the rug you are looking at. However, with older rugs with worn areas, it may not be possible or financially feasible to reweave those areas and so repairs involving some dyeing and repiling is not unethical – it's a way to support and protect those worn areas, while also making it look better.
What is unethical is NOT disclosing that work to you and implying that the rug is all original.
When you have a rug that is a hundred years old, it is expected to have wear and some "signs of age" (we all do!). But if a rug has been heavily painted, it will be a problem to have on the floor and used. If you are not sure of the condition of the rug you want to purchase, always consider getting an opinion from your trusted rug cleaner.
He/she will not be able to tell you value of the rug (that is the appraiser's job), but cleaners can absolutely point out any problems with fibers and dyes in regard to it being used on the floor, and eventually being cleaned. It's our job as cleaners to protect and maintain textiles, so we know what to look for as hidden dangers.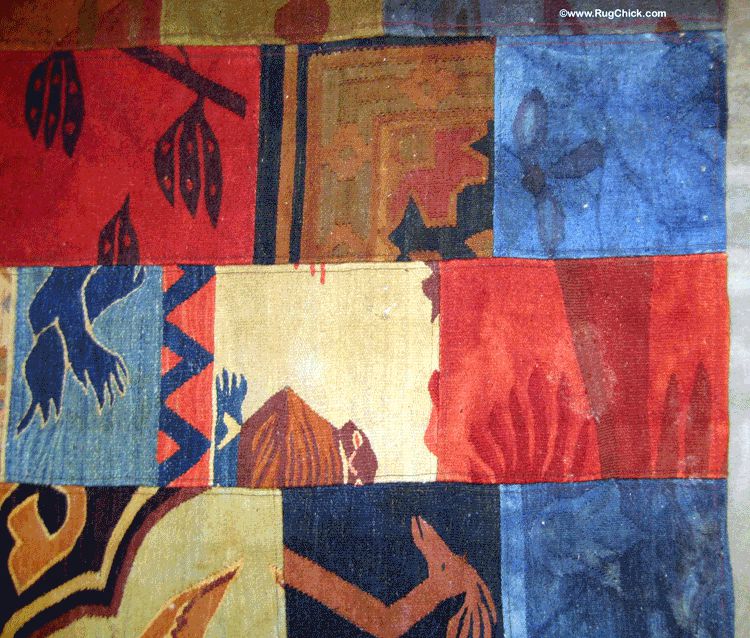 Patchwork rug, with pieces over-dyed in ink that comes off with spills and with cleaning.
Ink is a problem. In this rug above small squares of hand woven flatweaves are made into a patchwork rug, which is a really cool idea (we often make remnants of rugs into pillows) – but what is NOT cool is the excessive ink being used to color some of the squares. You can see spills on this rug where the ink has been wiped away and off. This will be a nightmare of ink if gotten wet by an untrained rug cleaner, and these rugs are selling for a lot of money likely without letting the buyer know that the ink can bleed as easily as it can (even underneath on to the floor under it).
It's a situation where designers like the "look"…but have no idea of the dangers they are giving to their clients who buy the rugs they recommend.
I find that rug owners who are told that their rug is not cleanable get a bit upset that they were not told of this problem when they purchased their rug. So let's talk about rug construction types, because I find that today rug owners are not being informed on the different types of rug constructions and why some are better than other – that they are only focusing on the "look" of the rug.
RUG CONSTRUCTION: The good, the bad, and the ugly.
When you are purchasing a rug, I think it's important that you know everything up front so that you can make an educated buying decision. Let's keep with the same three categories, these are general groupings, obviously there are more detailed choices within each of these groups.
GOOD = woven rugs.
When I get a call about a rug to clean, I ask them if the rug is woven. If they say they do not know, then I ask them to flip over the corner of the rug. If they can see the design on the back the same as the front, it is woven. It may be hand woven, or machine woven, but it is woven nevertheless. And woven rugs, especially wool ones, should be washed professionally.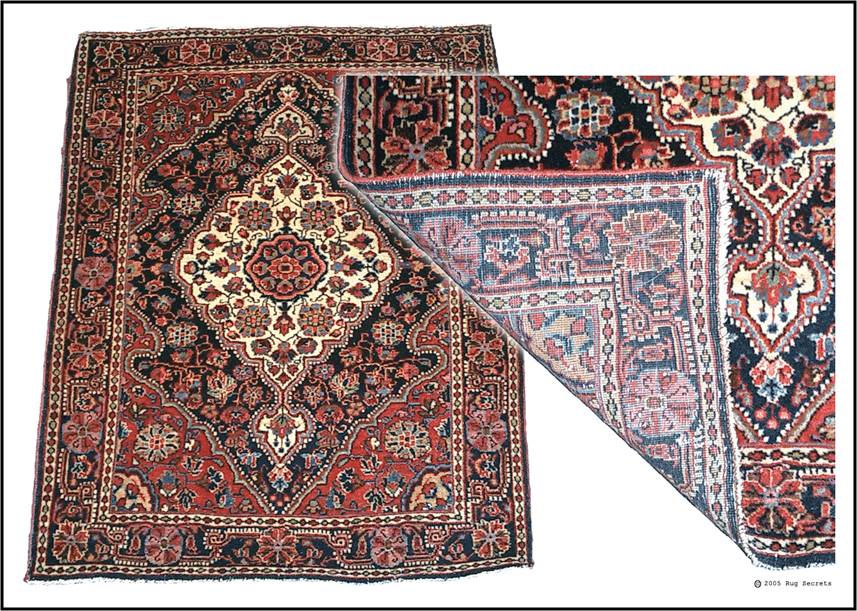 Flip the corner. If you see the design on the back – it is a woven rug.
To determine if the rug is hand woven or machine woven, takes a bit more skill (and determining what country it was woven in takes a great deal more skill…), but the basic rule of thumb is hand woven rugs have the "knots" tied around the warp threads – and those warps make up the fringe tassels.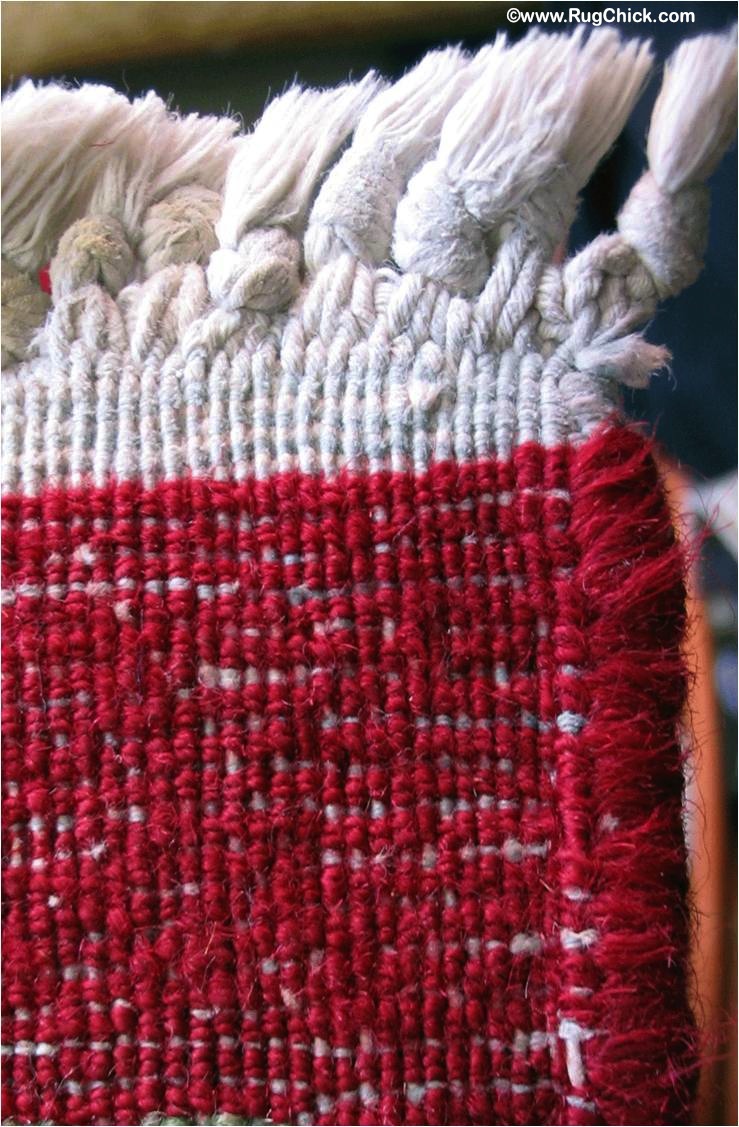 Hand woven rug – wool fibers are wrapped around the warps. Those cotton strands running vertically make up the fringe tassels.
With machine woven rugs the tufted are wrapped around thick weft strands, and the fringe is typically sewn on afterwards with a sewing machine, and the sides are machine surged as well.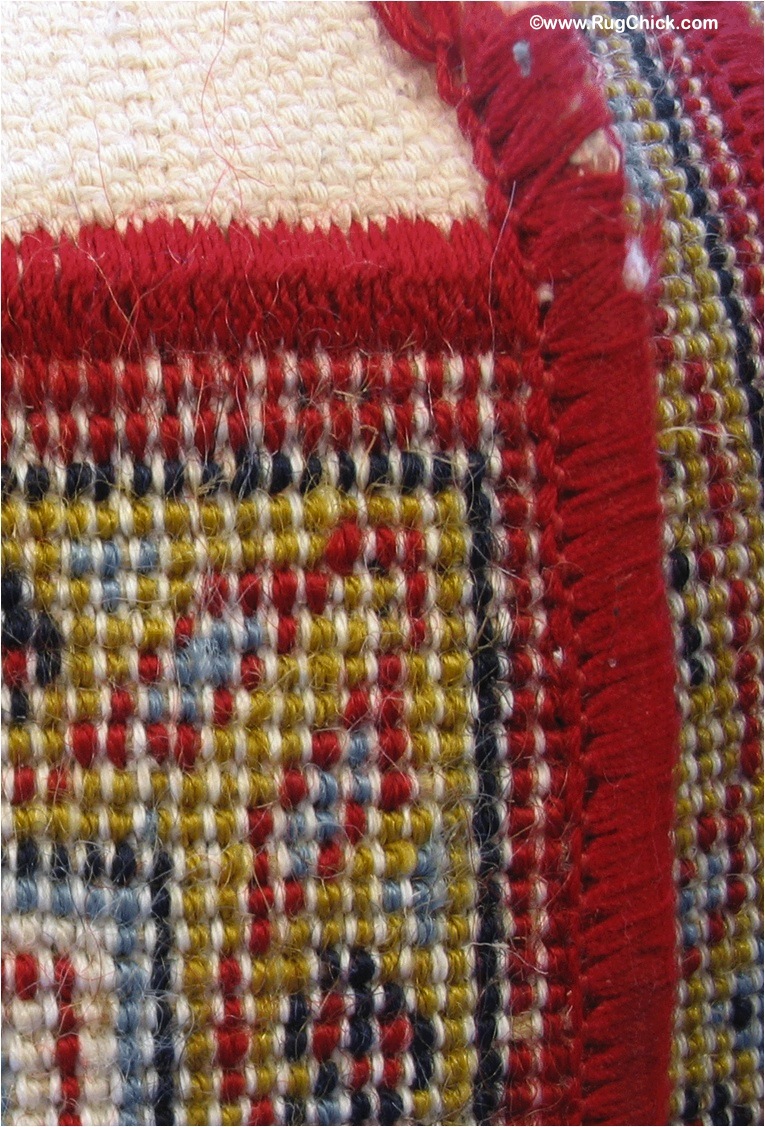 Machine woven rugs have the wool wrapped around the wefts (wefts run "weft" to right). Fringe is sewed on by machine and sides sewn on too.
From a construction standpoint, both hand woven and machine woven rugs, with good fibers (wool!) and good dyes, are going to be good rugs. The hand woven will obviously be a higher price, which we will address in the next section, purely due to the labor involved. But if you are looking for a sturdy good rug that is going to last you, you want to look for a woven rug.
BAD = tufted and tufted-hooked rugs.
If you flip the corner of your wool pile rug and see a material backing, then you have a tufted rug.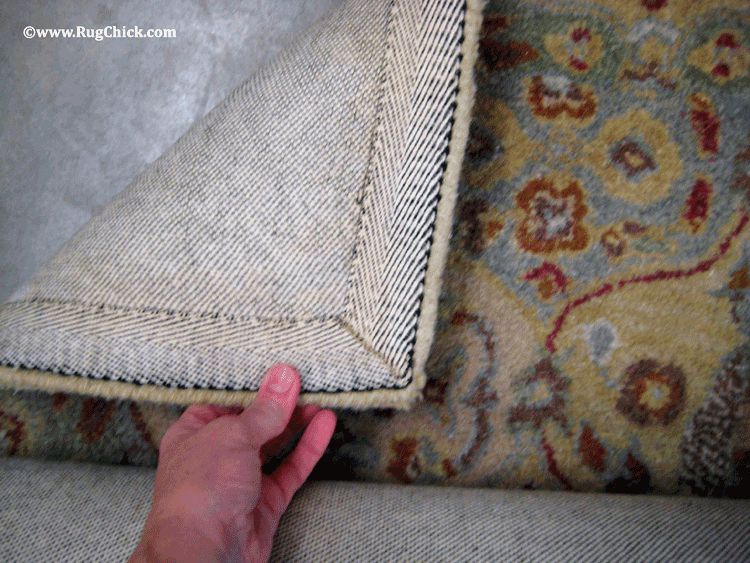 Tufted wool rug from India. The material hides latex holding it together.
Tufted rugs are what I call "fake" rugs, because they are constructed to create the look of a woven rug from the top, but they are actually made using a lot of shortcuts. The reason there is a material back is because the wool tufted are punched into a canvas with a tufting gun, and latex is poured all over the back to hold it together. There are a host of issues that can come up with tufted rugs related to their construction, the most important being they do not last anywhere near as long as woven rugs do under normal use.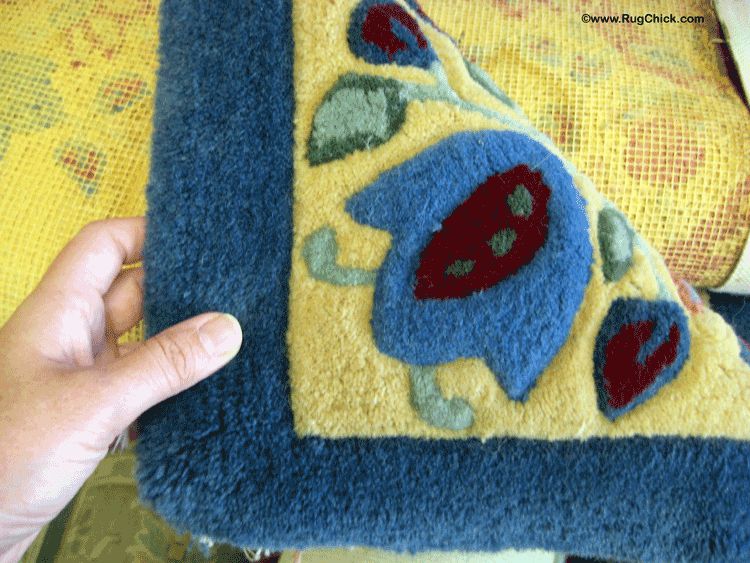 Tufted rug with the backing material removed.
Tufted rugs can be quite decorative. And some do in fact use good quality wool and dyes. The issue is with that latex, which besides being ugly (that is why it's covered up with material), can have a tendency to delaminate, crumble, and powder.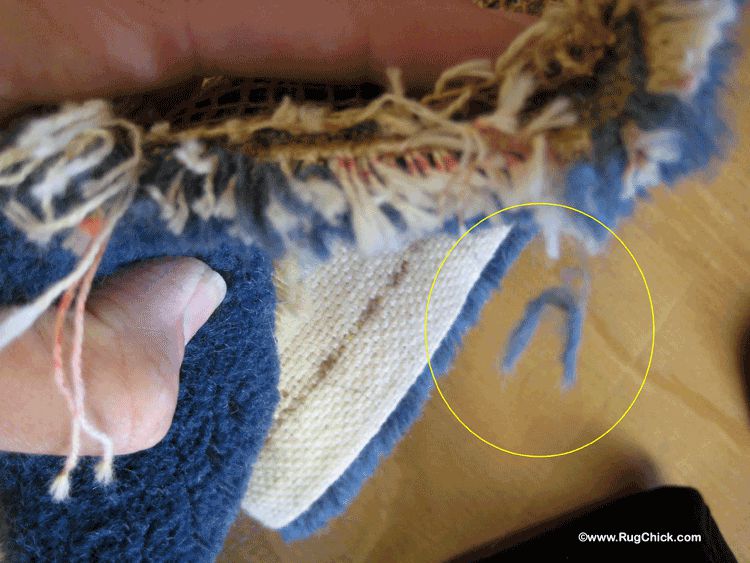 Tufts are simple loops so when the latex crumbles the tufts fall away easily.
Tufted rugs are to real woven rugs as particle board furniture is to real wood furniture.
IKEA sells a ton of particle board furniture. It's nice looking, it's easy to put together, and it's cheap to buy. But no one is thinking about passing on those pieces to their children down the road, because they know they will not last, and will not have any resale value.
Likewise, many stores are selling tufted rugs. The problem is, many buyers are not aware that they are buying "particle board" quality merchandise, and they are not aware of the challenges that come up with these rugs.
Tufted rugs MUST be placed on a hard floor, because if it is placed over a soft floor (carpet) and furniture is placed on top of it, that latex will crack and break at those points of furniture. Sometimes a heavy pad will help avert this problem, otherwise the rug will get buckling and fiber loss over time.
Tufted rugs are VERY tough to remove pet urine and odor out of it. Once the urine penetrates the glue, your chances of getting the odor out is low. Full washing is the only way to get the contamination out, but tufted rugs by their very construction do not hold up well to long soaking to remove odor causing contaminants.
Tufted rugs with STRONG odors when they are new are flawed, contaminated merchandise. Sometimes lower quality tufted rugs from India have a bad odor that is like a mix of strong rubber and smelly socks. This is a sign of the latex souring before it was applied, or being mixed with bad contaminated filler, and this odor is NOT removable. Take the rug back for another one.
When people ask me what kind of rug they should buy, and they have pets or children who will be rolling on the rugs, I always direct them to getting woven rugs. No matter how much the makers of tufted rugs tell me the odors are "safe," I know that when my nose tells me "YUCK" that something is not good. I would not let my kids roll around on tufted rugs.
And with pets, any accidents on that glue will lead to you likely having to buy a new rug, so unless the tufted rug is really cheap, I'd get a woven rug you can wash fully when you need to. (Or give your pets a nice backyard instead.) =)
That said, if you like the tufted rug you are looking at, and it's the price you want to pay, and you don't have pets, then go ahead and buy it…especially if it is wool. Like I mentioned before, I have some tufted wool rugs that I use as entry rugs, and they take the abuse well and I don't have to feel guilty about having my hand woven nice rugs taking that beating. Tufted rugs absolutely serve a purpose in some cases. (Just don't let anyone sell you a new tufted rug at a woven rug price, because that is wrong.)
UGLY = custom and crazy rugs.
Decorators and designers like to come up with great "unique" custom creations for rugs involving all fibers and fabrics imaginable. We are seeing today lots of "shag" rugs made of acrylic, polyester, wool, and leather.
Leather strip shag rug. Very tough to clean.
The toughest pieces are the "frankenstein'ed" custom rugs where a maker pieces together incompatible fibers or fabrics that each require different cleaning chemistry and methods.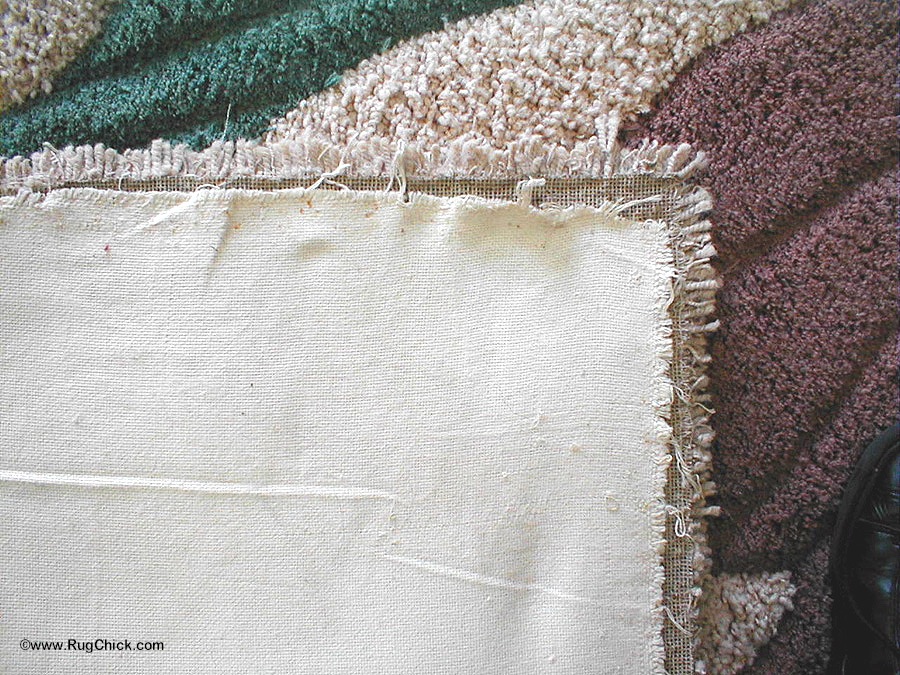 Natural and synthetic fiber mix, and a poor backing construction.
Often these rugs need to be cleaned section by section to not create any disasters, and this often takes more time and will cost the owner more money. We charge extra to clean shag rugs like this one: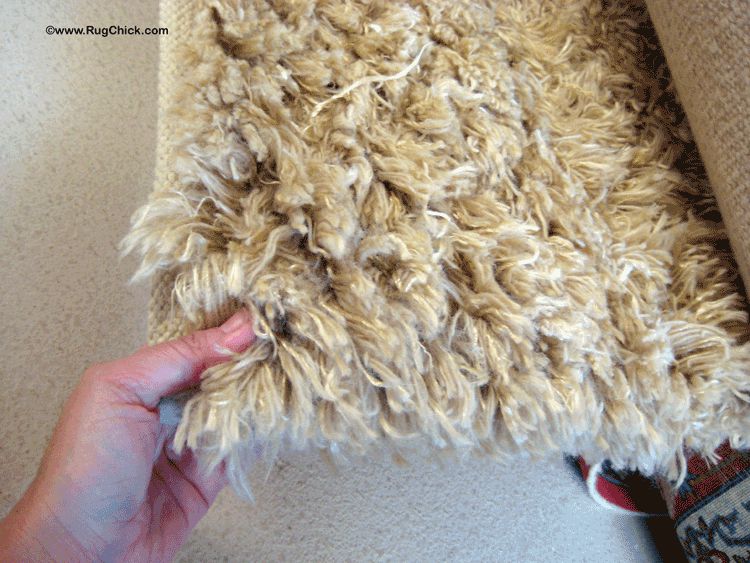 Shag rugs are tough to clean, and cost extra.
If any of you own shaggy hair dogs, you know how tough it is to both clean and brush that fur. It's no different with rugs, except that while you may be cleaning your dog monthly, you usually only clean your rug once a year, so that shag gets super dirty…
…and tangly. These rugs need to be cleaned row by row, and with the new synthetic polyester shag rugs, you literally have to "pick" the lint and grime off the tufts because it gets caught up in the plastic weave.
Many of these new pieces being sold today we are turning away because it's easier to have them buy a new rug when it gets super soiled versus them paying for our labor hours to clean the rug for them.
It may have looked like a cool design to begin with, but if you can't easily clean it, it can become a costly "cool" purchase. If you are planning on making a designer rug purchase, you might take a quick photo and send it to your cleaner and just make sure it is cleanable first. Just to be safe.
So again, I'm partial to woven rugs, because they are the easiest to care for, and they last the longest.
And the question comes to this… you are looking at a rug, and you know it's woven (because you see the design on the back same as the front), so is it a good price?
3) Find the right PRICE.
"What should I pay for an oriental rug?" is a question I get a lot. Especially from my clients getting ready to travel overseas on a trip to weaving countries.
The prices of rugs are all over the place. Over the past few months I've seen in our rug shop a rug that a client paid $200 for, and another who paid $200,000 for hers.
Rugs are like real estate, and the prices are based on location, quality, age, and how badly others want it too.
Photo by Temple Rugs & Cultural Tours, used with permission. 3 DOBAG weavers crafting a Turkish rug by hand. www.templerugs.com.au
This hand woven rug will take 3 Turkish weavers approximately a year to weave a 9×12 rug. When people ask me why some new rugs are "so much" I ask them how much they would charge me to craft something 6 days a week for 12-14 months. Hand woven rugs are a piece of someone's life, and to those of us who appreciate that type of artistry, we do not see the prices as "so much."
When someone is traveling and asks me what to spend what I tell them is if the rug is wool, and they look at the back and see that it IS indeed woven, then if the price is $10 per sq. ft. – buy it.
A woven wool rug, even if it is not high quality, will be worth at least $10 per square foot. You will either be getting a fair price on new merchandise if the quality is "average" and a great price if the quality is great.
Without me seeing the rug, it's hard to give a blanket price, but you are always safe at that $10 mark.
Now, there are MANY rugs selling for hundreds per square foot, including the rugs woven by the Turkish weavers you saw above, and these will be the rugs being sold in the higher-end quality rug galleries. But if you are traveling to random "rug sales" or searching antique stores for hidden treasures or want to buy a rug when you are traveling abroad, that is a good price to hold in your head if you are scared about getting "ripped off." You can't get ripped off at ten bucks a square foot.
That said, value will always be in the eye of the beholder.
We often get rugs in that "appraisers" would place no value on because it's not "collectible" or has no real "market value" in today's market.
But when I look at a rug, I can see the workmanship that goes into these creations, and I always see value where others may not.
I have an old Peking rug (circa 1915) on my wall at home. I know an appraiser would not place much value on it because it has some significant areas of wear. Heck, it's a century old!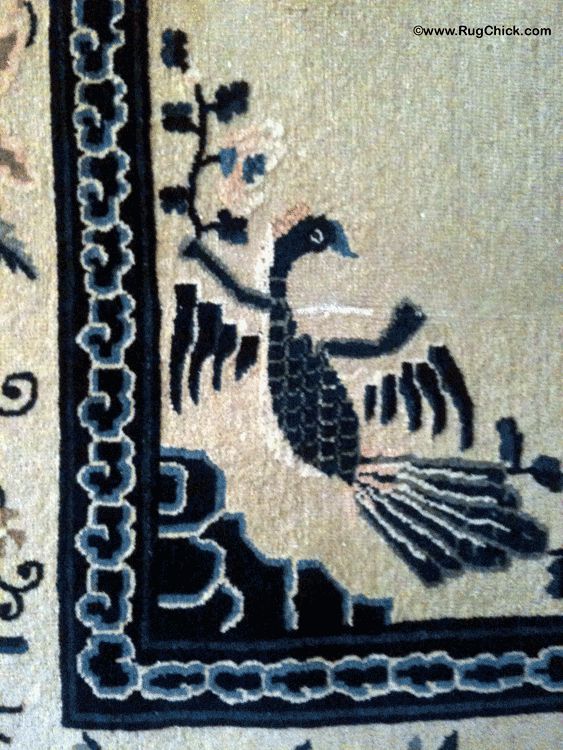 Peking rug. I like it… and that's all that matters. =)
But what I love about "my" piece is that it's from a period in Chinese weaving before they began creating a lot of commodity rugs that were heavily chemically washed. Back then they used the best indigo dyed wool, and I am a huge fan of indigo.
So when I see the rug, it makes me smile. It's about a hundred years old, and it still shines like it always has, and I love to look at it.
And that's what you are looking for when you buy a rug, that type of connection. It means something to me that this rug was crafted entirely by hand. All of the rugs I have in my home I have because they have "character" – they are my woven friends. Some have some wear, some damage, and some flaws…
…but so do I, so it's okay. I don't need perfect rugs, I just want "real" rugs that have lived a "real" life that I can surround myself with and appreciate.
Having hand crafted items, whether textiles or art or fabric or pottery or furniture, that's just part of what I appreciate. It reflects on what I admire and appreciate in the artisans of this world, and their past work.
If you don't really "like" rugs, and could care less what is on your floor, then you have a whole host of places to find inexpensive, and lesser quality rugs – Pottery Barn, Crate and Barrel, Home Depot, Lowes, lots of places.
Just keep an eye out on the fiber, dye, and latex problems I noted before to keep yourself from buying a rug that may end up costing you more down the road in cleaning or repairs than you planned for. It's not uncommon for us to have to completely relatex some tufted rugs from India within a few years after their purchase because they are crumbling, and this is a repair that costs a few hundred dollars.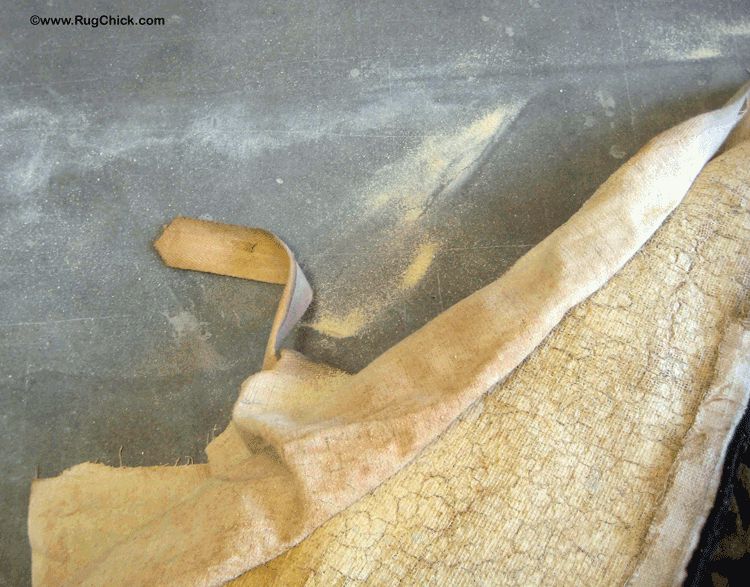 India tufted rug. It is delaminating and putting powder on the floor. These get messy over time.
If you do "like" rugs, then focus on the different woven rugs you come across to discover what types appeal to you the most. If the rug you are looking at is more than the $10 mark I've given you (and if you are in a quality store with true quality goods you absolutely will be paying more than $10), then you want to learn more about the rug.
– How does the wool feel? Is it smooth but strong? (Brush over it with your thumb to see if it is brittle or sheds.)
– How do the dyes look? Are they vivid? Is there a big difference in the colors from the front to the back (sun fade may be a sign of inferior dyes)? Do the colors test as colorfast?
– How is the shape of the rug? No rugs are perfectly rectangular, but make sure the rug does not have any glaring weaving flaws that are causing buckling.
– How does the rug look when you walk around to both ends? Every rug has a "light" and "dark" direction, so take a look from all angles to truly get the richness of its look.
– How does the back of the rug look? Do you see any flaws in the weaving tension that are creating creases? Do you see any areas of discoloration or past dye bleed? Are the sides or ends unraveling?
– How old is the retailer telling you the rug is? Take a photo so you can research the rug's origin on-line, or take the rug out on approval so you can hire an appraiser to verify the rug if it is being sold to you as an "antique" if the price is significant and to verify you are buying an investment grade rug.
– Are there any "care" conditions you need to be aware of? Take the rug out on approval to show your trusted cleaner to see if they see any issues with the fibers, dyes, or construction. (When clients bring us rugs we ask them to NOT tell us who the rug dealer is so that we can give our feedback without getting involved in the middle of a potential sale. Do not get your cleaner in the middle either because if the sale does not happen this may lead to bad blood and the cleaner may stop offering his two cents to help.)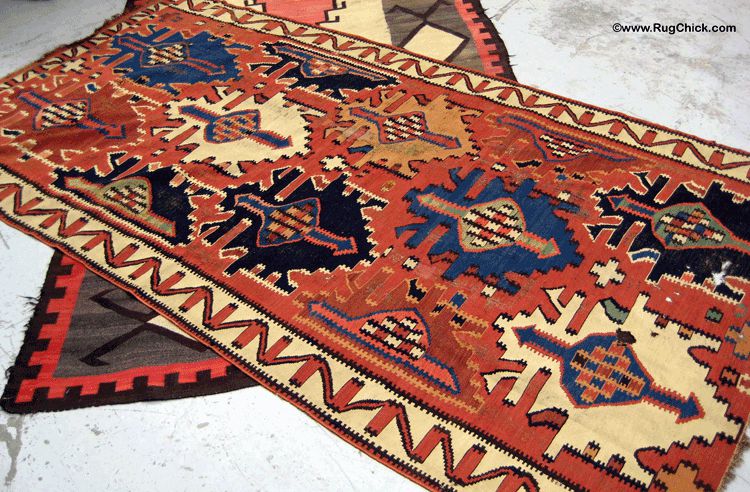 Beautiful old Kuba Kilim with a great Navajo under it.
It comes down to whether you feel good about the price you are paying, whether it is $200 or the $200,000. You want to be able to walk into your room, see that rug, and just feel really good about it. And if you know it's good wool (or silk), good dyes, and good woven construction, and it was in the budget you had for the piece, and you like the person who sold it to you…
…then it's worth what you paid for. Even if others would not pay that for it.
Hope this gives you some things to look for when you are rug shopping so that you don't have to feel nervous about going into a rug store.
Happy Rug Shopping!
– Lisa
P.S. If you want to expand your education on oriental rugs, some great websites to visit are Emmett Eiland's Oriental Rug Blog, Hali Magazine's website (awesome magazine to subscribe to – BEAUTIFUL rugs in every issue), the Rug Rag, great site on tribal rugs Nomad Rugs, and a fantastically written historical rug blog Tea and Carpets.
(WARNING: Once you get the "rug bug" you will not be the same. =) And once you get to recognizing rugs you enjoy, you may become a collector with a hobby that may get expensive. But, I can tell you as someone who truly loves textiles and the creation of them, it's a fun world to be a part of. And thankfully I have appreciation for the hand crafted rugs with character that don't cost me $200,000 to have. LOL.)