Pointers on Needlepoints…
Most women have at sometime in their childhood tried a little needlepoint. (Perhaps some men also, but I can only speak for the "girls" I know right now.)
You have a little round frame that segments and holds tight a section taut of the cotton mesh (with a design imprinted on it) so you can do a series of stitches. It is almost color-by-numbers, where you use wool to stitch your little piece of art.
If you remember, it did not lay perfectly flat when you were done. Most of the times you made it into a pillow to help smooth this unevenness out. Or perhaps you framed it. If it was small this might not have been very noticeable, but as you tackled larger pieces it was trickier to keep the tension even in your stitching. A natural characteristic of a hand made product, the tension is never even.
There are needlepoint rugs on the market. Some quite large. Some done by hand, and some by machine, and they bring with it their own unique characteristics and a few "challenges."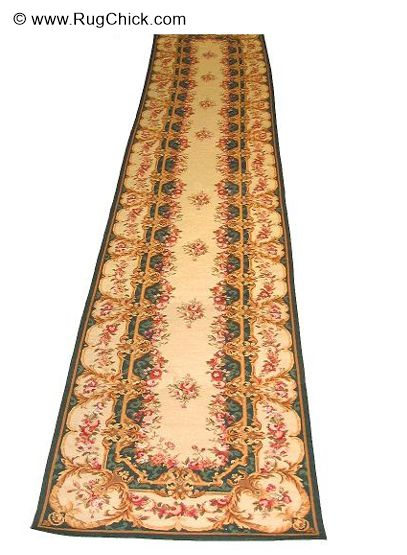 Needlepoint rug from China
This is a typical new needlepoint rug. Attractive design. Nice colors.
Do you notice though, that it is a little uneven along the edges? That if you were to lay it out and measure it, that there would be some differences in the width and length?
Let's take a closer look: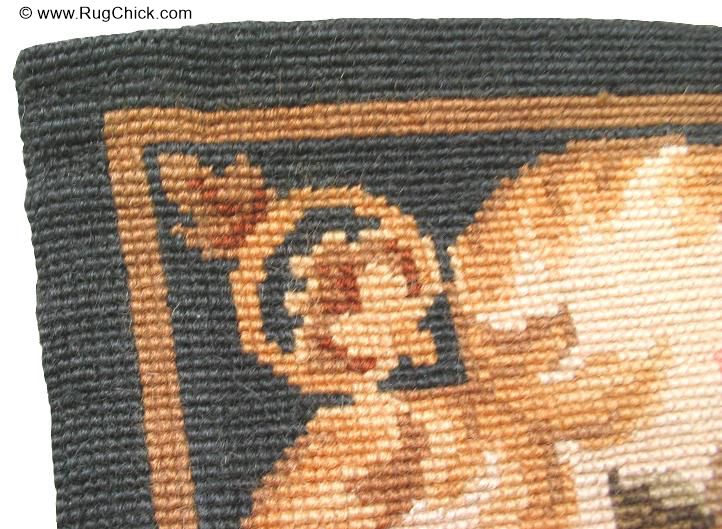 Front corner of the needlepoint rug.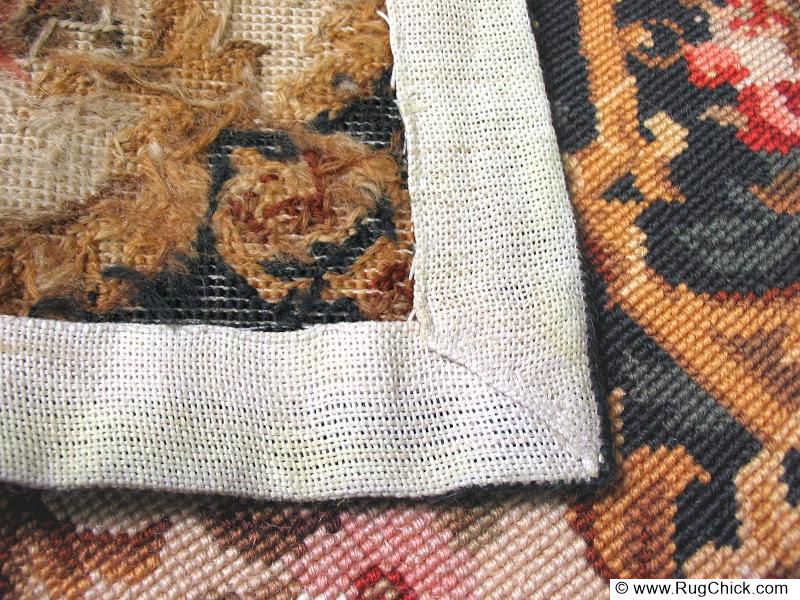 Back corner of the same rug.
See along the edges of this rug, that even before its very first wash, when it is BRAND new, there is some buckling along the edges. Just like with your little needlepoint pillow way back when.
Can you also see the stitching, and how there needs to be some colors tied off, and some areas doubled-over, so that it does not give the rug a completely smooth back?
Characteristics like these lead to a couple must-knows about needlepoints.
They are rarely perfectly stragith or symmetrical.
They rarely lay flat on a floor.
They are easy to kick up the edges if they are over wall-to-wall carpet.
They are easy to slide on if they are on a hard floor.
If you are cleaning them – there is a danger of some buckling of the cotton or synthetic mesh if you are not careful on its first cleaning. (If you are a professional rug cleaner with a facility, you have two options here: 1) Give the rug a bath and tack it out on a stretching floor during the dry time, or 2) tack the rug onto a floor BEFORE cleaning and clean it with a hand tool as you would tricky upholstery.)
Though I have seen some gorgeous needlepoint rugs in my lifetime, I tend to prefer these and tapestries up on a wall displayed rather than on the floor. And because of the thin structure of these rugs, laying them over wall-to-wall carpeting and placing any furniture on top of them would be a rug DISASTER. You will tear the foundation over time, as rugs are meant to be on hard floors, and with a solid pad underneath them.
When hanging rugs, I prefer having a strip of velcro attached to the back BY HAND … I'll post some photos of this in my next blog post so you can see what I mean exactly.
If you own some great needlepoint rugs, or tapestries, you could consider putting them on display on your walls. (If you have some great old rugs, but also have some great old dogs in your home, you can save your rugs by mounting them on the walls also – nothing damages rugs more than pet urine.)
Just a few pointers on needlepoints, hope they help!
– Lisa