Rug Chick in the New York Times
Hello Rug Chick readers,
My mom Kate, our team, and I are super excited that our company (K. Blatchford's Rug Cleaning in San Diego) made today's Home section of the New York Times (4/4/13). Columnist Linda Lee wanted advice on the proper care for rugs, and what rugs are worth buying today.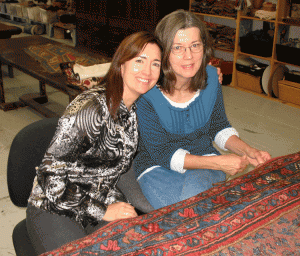 New York Times article => A Rug Expert Keeps Her Eyes On The Floor
Any of you who are looking for a local rug cleaner to use for your rugs, please visit my directory of rug cleaners I know and trust. These are peers I've known for decades, or companies who I have trained personally.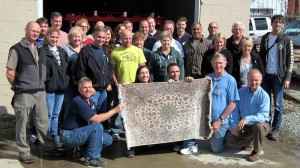 Our first of four Textile Pro teams. There are 100 companies who have graduated this advanced program.
If you know of fantastic rug cleaners in your area that I should know about – feel free to email me their details. Everyone on my list I have either been to their shops myself to "see" what they do, or I've worked with them through training programs. There are many "hacks" in our industry ruining rugs, especially those who clean rugs in the home instead of taking them out to properly wash them, so this is my way to try to connect rug owners in need with good cleaners.
Lisa's List of Rug Cleaners Find A Rug Cleaner
Hand woven rugs take months, sometimes years, to weave. They are a piece of a weaver's heart and soul, and they need to be cared for accordingly. Great wool rugs last centuries. We tell our clients that we are a part of that rug's life, because it will outlast us many times.
Hopefully this information, and this blog, will help keep more of these pieces of art to have a longer, cleaner, and happier life.
Happy Rug Cleaning!
Lisa
P.S. If you are a professional rug cleaner and are interested in taking my next course, which is on Rug Identification Basics, the details for that course (a combination of online lessons and in-person instruction in San Diego) can be found at www.rugclass.com. It's always a great idea to have a "business" excuse to come to San Diego… and bring the family!